For all coffee lovers, if you have ever thought about having a smart, efficient, and perfect home kitchen-integrated coffee machine like me but couldn't have one, then this blog is worth reading for you!
In my teens, I used to drink coffee mostly from vending machines and shops since I was away from my hometown most of the time and did not have easy access to coffee shops. But whenever I got an opportunity, I always tried to have a coffee from Brista.
It was at those moments that I used to consider what a good cup of coffee should taste like. My best efforts to make coffee at home during the holiday season never yielded results. In recent years, as I became financially independent, I started to think about having a coffee machine at home.
That's when a friend of mine, during one bristle evening, suggested that I should give a try to Sage Duo Temp Pro during our short chit-chat.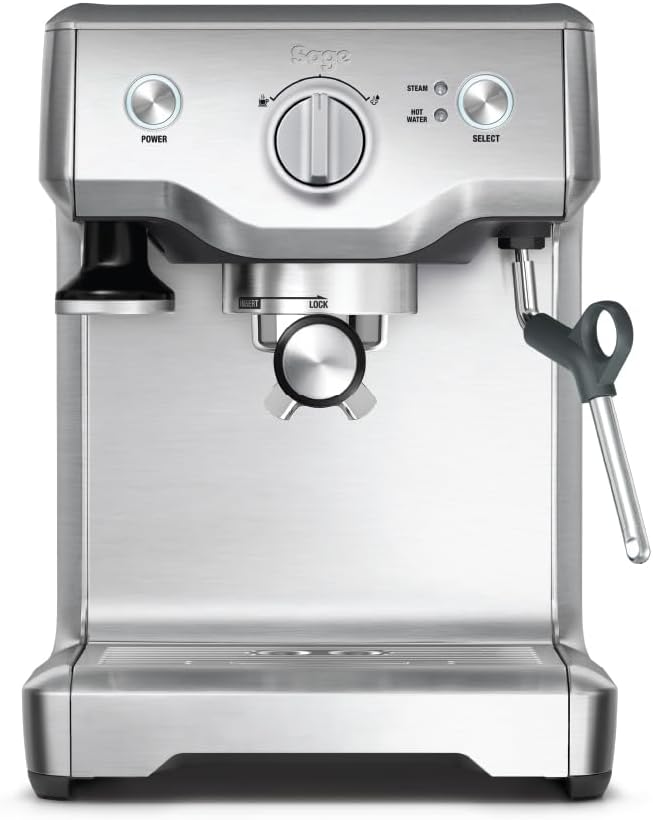 Sage Duo Temp Review
As I begin my review of Sage Duo, I would like to clarify one thing right from the start: I am not a product/food reviewer, so I am certain your experience will be completely different from mine.
Despite this, since I have lived for most of my life in the UK, I think my arguments will stand out. So here is my experience with Sage Duo Temp, which I have used for the past six years, from my days as a student to my current role as a successful marketer and entrepreneur.
Product Highlights:
It includes a water tank capacity of 1.8 liters, which means that you will not need to refill it frequently during the brewing process as it has a continuous brewing capability.
This espresso machine is equipped with a cup reservoir for the brewed coffee, which enables the machine to produce 2 cups of coffee per time it is in operation.
How's this coffee maker is going to work for you?
So, for starters, this coffee machine is often called the best deal for coffee lovers just thinking of getting a coffee machine at home. It's not a fancy, overly equipped device with plenty of features (which I would say, according to me, isn't very necessary for someone starting).
I would describe this automated coffee machine as simple and does exactly what you ask to make you a perfect cup of coffee. Therefore, we can make a great espresso at home without having to go to a barista (which is what we coffee lovers have a hard time resisting!) You can make an awesome Italian espresso right at home.
Sage Makes Perfect Coffee. Here's how you can get started
The process of making a coffee with this machine may take you 4-5 tries to get accustomed to, but with practice, you'll get the hang of it. You will begin making your cup by turning the dial in the center of the machine, which will be located on the side of the machine when you first turn it on.
It has a single dial, which allows you to choose either brew your coffee or steam your water (I must admit, at first, I had a hard time getting used to it, but trust me, this is the only extra step).
In the next step, you want to put in the quantity of milk or coffee you want to brew (depending on which you want first to brew). Using the tamper, located just to the left of the portafilter. You can tamp the beans with some pressure using the tamper located just below the portafilter.
Use a razor dose tool to scrape off any excess coffee from the machine before loading it into the machine to ensure the correct amount of coffee is loaded into the machine. After you've got your espresso going, you just need to turn it on coffee (it's the setting you can see on the dial setting). Vollah! There you have it. Your perfect homemade cup of coffee is ready to enjoy.
Sage Pro is Perfect for Starters
As long as you are OK with manually filling the basket with grounds each time, the Sage Dup Temp Pro model is a good choice for those people who want to become better at making espresso at home if they do not mind manually filling the basket each time.
But hey! I want to emphasize how well it integrates in the kitchen and how perfectly it can be used. It does not look bulky and is neither large (it measures 26x30x33 cm).
With a neat design and a classic appearance, this machine lends a classy and elegant look to any setting, and its classic design makes it a perfect complement for any décor.
Some Pros/Added Perks
Let's discuss some of the advantages of Sage Duo Temp.
Heat Purging System
One of the features you're likely to find fascinating is the heat purging system that automatically turns on and off as needed. To make espresso, you need to use the steam wand, which will increase the temperature within the machine, which may impact the flavor of the next cup when you use it.
When this occurs, the purging system will reduce the temperature to ensure that any subsequent espresso will be made at the right temperature as a result of the purging system. You will find this feature to be very useful if you are planning to make several drinks at the same time.
Pre-Infusion System
Sage Duo Temp Pro also has a pre-infusion system that uses low pressure to dispense tea. As the extraction process proceeds, the pressure gradually increases, which helps to draw out a more even flavor during the extraction phase.
Two Spouts
To facilitate the simultaneous serving of two cups of coffee, there are two spouts on the coffee maker. There is only one thing you need to do to accomplish this, and that is to switch the baskets.
Great Value for Money
As for affordability, Sage Pro is available for £429.99, which is pretty much at the sweet spot between many actual espresso machines that cost much more and many actual coffee machines that are extremely expensive. Sage Pro is just a remarkably affordable machine at a cost of around £429.99.
For my part, I have personally been using this machine for more than 6 years, and I cannot recall ever having any problems with it. There is no need for special care, and it is very durable and easy to take care of.
A little bit of maintenance is all that is needed to keep it running smoothly. It is always perfect every time I use it, making me a great espresso latte.
Some Cons
Since the Sage has been designed to be as simple as possible, there aren't many customization options. When the machine is turned off with this system, it does not immediately switch off when the power is turned off.
The first few times you do this, you may dispense more coffee than you meant to, at least until you master this technique. Also, it is extremely important to clean the wand as soon as possible and then wash it up afterward (portafilter, jug, wand, thermometer if used).
Is it Worth buying Sage Duo Temp Pro?
It's, of course, a no-brainer! I found that the product was still featured at the top of the list of coffee machines/coffee-making categories on Amazon, which means that there are likely to be a lot more people like me who loved the experience with the product.
Sage offers the perfect combination of affordability and robust durability, along with the convenience and ease of use that comes along with it. Considering its size and compatibility, this coffee machine would make an excellent addition to any home.
If you are a coffee enthusiast and would like to have the convenience of making perfect homemade coffee in your own home, this machine won't disappoint you. Also, I have noticed that there has been a significant drop in the price of the item. Back then, I remember it cost me around £570 to buy it, and I remember getting it delivered. So, it is also great to have your hands on the product.
In addition, I would like to point out that it also has a high second-hand price value since it is high in demand, and I have seen some websites that offer it as a second-hand item. This concludes our discussion of the topic.
This is my honest, raw, and unbiased review of this product, which I hope you found useful, based on my own experiences.