We are just a few weeks away from the start of winter. With the approaching holiday season, we are getting increasingly accustomed to waking up to a hot cup of coffee as a starter when we wake up in the morning.
Nothing is better than sipping a cup of aromatic & satisfying coffee on the bristle winter mornings when you wake up to a pleasant frost. I think that's another level of excitement and happy feeling.
So last winter, I scrolled through different forums and asked my friends on my social media to suggest a great coffee machine (as I was tired of making coffee with conventional methods). My goal was to find an easy way to have my coffee made along with something that would be economical.
My friends and acquaintances recommended me several coffee makers. , but Delonghi Nescafe Dolce Gusto Mini Me was the most popular suggestion I received, and it was available within my budget, so I decided to try it.
As such, below is a summary of the reasons that led me to write this blog and curate my experience on this infamous classic coffee maker machine by Nescafe to help you make your decision. You can thank me later if you like!
Where To Buy?
After searching the internet to find the best deals and reviews of the Dolce Gusto Mini Me, I found that the easiest place to purchase it was on Amazon, they also have one of the best prices for this product. You can order it and receive it NEXT DAY, if you are an Amazon Prime Customer.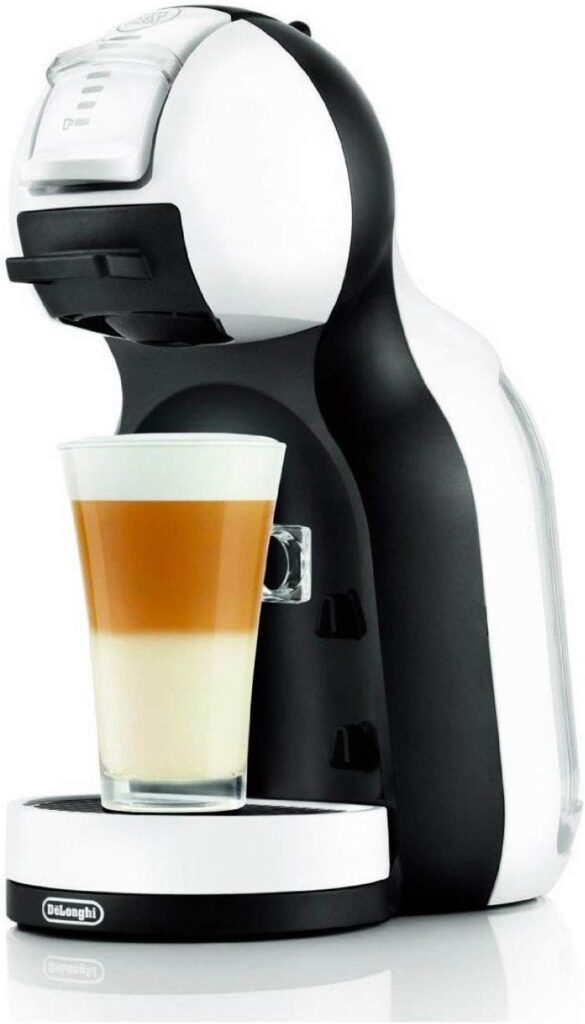 My first impression of the Delonghi Nescafe Dolce Gusto Mini
For a moment, let's just forget about that ridiculously long and confusing name of the coffee maker for a minute. Just shortening it to "Dolce Mini." for the sake of space. What did I like about it? This cool, handy retro coffee maker gadget is full of many things to ponder and take some time to think about.
To begin with, let's talk about how it looks from the outside. As far as kitchen gadgets go, I believe this is one of the cutest ones I've ever seen, and I'm in love with it now that I own one myself. It has a captivating finish that appears to have been specifically designed to complement the look of your kitchen (almost like something you would find in a café).
What an incredible piece of equipment you have there! Can you believe this model line has been around for a decade, and yet it still conveys such an aura of a sophisticated and modern machine? I like that the coffee machine is quite compact, so it is perfect for various settings.
Whether for a household or for students to use in their dorm rooms, this coffee machine would be perfect. Moreover, considering the fact that it can make two cups of coffee at the same time, I would have to admit that it is pretty reasonable and acceptable.
Brew both 'hot and cold' Coffee cups.
While there are lots of coffee makers out there that can make both hot and cold coffee, the Dolce Mini is one of the most economical coffee makers on the market, and its quality coffee is the best of its kind.
You can make instant coffee just the way you like it with this self-automatic coffee maker. Since the device is fully automated, the process is very straightforward. It is as simple as placing a coffee pod on top of the machine, pulling it down, and sliding the top button to start the machine and the water will heat up, and the drink will be purified as it comes out of the machine.
A second milk pod may be required for certain drinks to make the drink taste better. It came with six different coffee boxes free when I bought it. Those boxes contained a range of coffee capsules that have been designed specifically for the machines that make coffee.
This DeLonghi Dolce Gusto Mini Me coffee maker brews delicious coffee from Nescafe Dolce Gusto capsules included with the machine. It is small enough to fit on any countertop, and the removable water tank and drip tray reduce maintenance needs since the unit is so small.
How do you 'control' your Coffee
Since the device is fully automated, you can, for the most part, expect the coffee to be made in a certain way and have the very same taste every time. This is partially true. Even though the coffee maker brews the coffee in a very precise way, you can still have a very large influence on what type of coffee you're expecting to have.
Yes, you heard that right. You can control the external aspects. For example, you can equate the amount of water set to go into the machine (no worries, you can't go wrong since the machine automatically turns off), and you can also decide on what quantity of the coffee capsule should go in.
How Reliable is Delonghi Nescafe Dolce Gusto Mini Me
Don't get an impression from its plastic body. It will make you feel the quality of the build the moment you buy it. In a sense, the plastic body has a carbon fiber-like feel, which gives it the feeling of being durable and going a long way. It has been an absolute gem of a coffee maker for me, and I would not be without it.
My addiction to making coffee was not limited to the winter time; I also made cold brew coffees with it sporadically whenever my caffeine cravings got the better of me. During the past year, it has been working extremely well, and no maintenance issues have arisen. My favorite thing about this product is that it is easy to maintain and clean.
This Coffee Maker is a Perfect synonym for Automation.
It's just crazy how amazing the product is. While you may find it a bit boring to use it without a display screen (although it still has a few cool light-emitting buttons that are equally interesting), the machine has no need for manual operation, which makes it perfect for a busy household.
It's so cool that the Dolce Mini gives you the power to control the size of the drink (cold or hot coffee). Simply move the slider up and down to select the correct drink. It also has an automated shut-off feature, so you won't be able to make a mistake, and you will always get the same elegant brewed coffee.
A great demand in the Second Hand Market
This product holds a great second-hand value even though the company still manufactures it. Although it is reasonably priced, many people get it from the second-hand market even though it is commonly available at a pretty reasonable price.
It is very likely that this coffee maker will remain timeless and will face very few competitors in the future. Yes, you can find better options. You can even get a coffee machine, which you see a barista making you a coffee at the cafe, but would those be that affordable? Or would they be that light, handy, and fully automated? I highly doubt it!
My Final take on "Dolce Mini."
As we wrap this up, let's take a moment to think about what this product is all about. It is an elegant, super efficient, easy-to-operate, reliable coffee maker that has a perfect taste and aroma and is available at a great price.
It is not just me who uses it for my coffee, but it has many satisfied, happy users worldwide who choose it for their morning cup of joe. In terms of satisfaction level, the product has a high rating.
The product is still in demand even a decade after it was launched due to its modern touch, relative affordability, and ease of use, which are all reasons why people enjoy this product so much despite its decades-old status.