Beanies coffee is available to buy at a number of online stores and supermarkets all over the UK.
There are a number of different flavours stacked on the shelves of high-street stores, leaving you spoilt for choice.
Buy Beanies Coffee At Online Stores
There are many online stores where you can purchase Beanies coffee. The benefit to purchasing online is that you can sometimes get extra discounts when subscribing to these kind of purchases, meaning that you do it every month.
Amazon is a perfect example of an online store that allows you to purchase many different flavours of Beanies coffee and also get a discount on further purchases. If you're subscribed to Amazon prime, you'll also be able to get free delivery and possibly next-day/same-day delivery!
You can also purchase Beanies coffee from their own branded website. Here you will see their full range of flavours which are nothing short of mouth-watering! In order to get free delivery from Beanies official store, you need to spend over £30 which seems quite steep for a coffee order. So if you plan to purchase from here, consider stocking up heavily!
Ebay are similar to amazon in the sense that it can be hard to find items that they don't sell! Don't worry, not everything on eBay is second hand and the Beanies coffee there certainly isn't. You can buy from genuine companies who sell these goods. eBay is another well trusted online store.
More Online Stores:
If Amazon, Beanies Official Store, or eBay aren't what you are after, then there are more online stores that you can purchase Beanies coffee from, these include: Storm Brew, Dietly, Cherryz, Brit SuperStore, Snackfully and loads more!
Note that when you purchase online, you may be required to pay a shipping fee.
Buy Beanies Coffee In Supermarkets
Of course, you don't have to buy Beanies coffee online, you can in fact head over to your nearest supermarket and the chances are they will sell it. Here are our top recommendations of supermarkets that you should visit in search of Beanies coffee:
Sainsbury's
Iceland
Tesco
John Lewis
Morrisons
Each store is stock dependant. It may be the case that the particular store you visit is sold out. You can always ring up the stores and ask. Or, to play it safe, order online.
Beanies Coffee Flavours
There are many different Beanies coffee flavours to try. You have your typical flavours and then some more unique flavours that are incredibly pungent. Here are some of our favourite Beanies coffee flavours: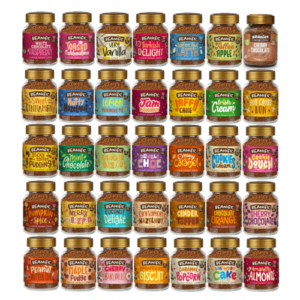 Cookies & Cream
Chocolate Orange
Nutty Hazelnut
Sticky Toffee Pudding
Cherry Bakewell
Jam Doughnut
Lemon Meringue
Double Chocolate
Irish Cream
Chocolate Brownie
White Chocolate & Raspberry
Cookie Dough
Turkish Delight
& many more!
Is There Caffeine in Beanies Coffee?
Most of the Beanies coffee flavours will include caffeine. However, they do have decaf options if you prefer to try some of the flavours without caffeine.
Do You Add Milk To Beanies Coffee?
Not necessarily. Beanies coffee can be enjoyed both with or without milk. It is entirely your preference. We personally prefer to include milk to give it a less strong flavour, but many enjoy black coffee due to the health benefits and lower calories. We have a coffee calorie counter that you can take a look at to work out how many calories are in your coffee!